Fujian village prospers from forest cash crops
2021-05-08 10:58:12
来源: China Daily
责任编辑: 陈佳丽
Jiewen village in Longyan has paved its way to prosperity by growing cash crops in the forest and boosting rural tourism.
Jiewen village in Longyan, Fujian province, a pioneer of collectively-owned forest tenure system reforms in China, has paved its way to prosperity by growing cash crops in the forest and boosting rural tourism.
Ganoderma mastoporum is cultivated in a forest in Jiewen village, Longyan, Fujian province. [Photo provided to chinadaily.com.cn]
In the past, Chinese farmers were excluded from collectively-owned forestry and received little of the revenue from timber. As a result, they lacked incentives to protect forests, and timber theft was rampant.
To solve these problems, Fujian initiated a reform to decentralize the collective forest tenure system in favor of individual or household management in 2002 to better utilize forest resources and protect the environment. This move set off China's new round of forest tenure reforms.
"We have explored a number of reform measures, including taking steps to encourage farmers to transfer their timberland to forest cooperatives and issuing more loans to forestry businesses to solve their financial issues," said Wang Jianbin, a local official.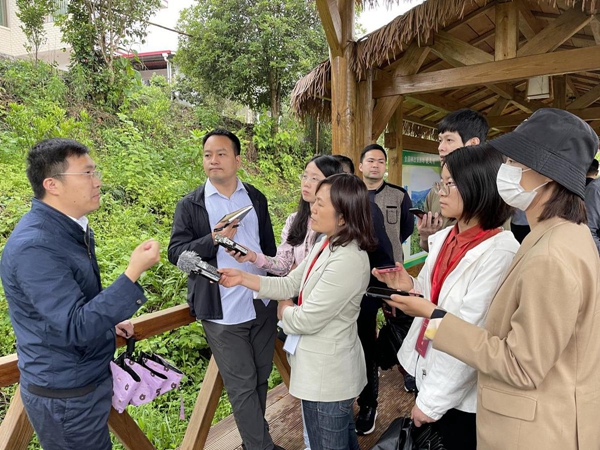 Wang Jianbin (first from left), a local official, talks with reporters during a recent interview. [Photo by Hu Meidong/chinadaily.com.cn]
Official statistics show that the forest coverage rate of Jiewen village increased from 78 percent in 2001 to 84.2 percent in 2020, while the local forest stock increased from 103,000 cubic meters in 2001 to 193,000 cu m in 2020.
"We've invited agriculture experts and worked with professional enterprises to boost the farming of cash crops such as ganoderma mastoporum and russula, increase incomes for local farmers, and rake in profits," said Wang.
According to Wang, the village has developed a special model involving the local government, cooperatives, planting bases, and farmers to better cultivate tree and flower seedlings, farm bees, and grow Chinese herbs.
The per capita disposable income of villagers in Jiewen increased from 1,600 yuan ($247.04) in 2001 to 25,008 yuan in 2020, a nearly 16-fold increase.
Jiewen is also intensifying efforts to develop rural tourism by improving facilities and infrastructure and building a new countryside that is beautiful, prosperous, and harmonious, said Wang.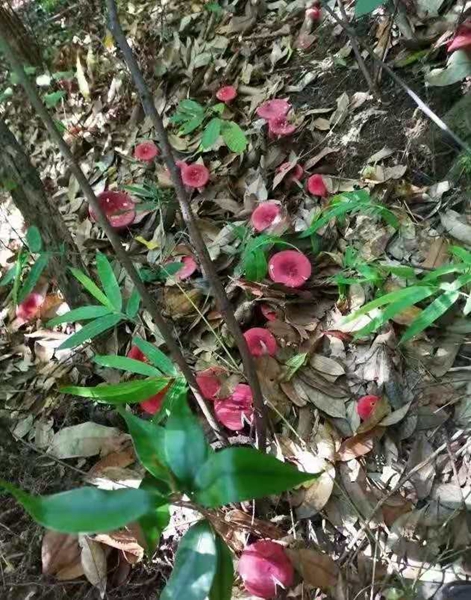 Russula is cultivated in the forests of Jiewen village. [Photo provided to chinadaily.com.cn]